02 May 2019
Auckland on show at IMEX Frankfurt
The annual Worldwide Exhibition for Incentive Travel, Meetings and Events (IMEX), is being held in Frankfurt on the 21 - 23 May 2019 and is the largest international event of its kind in Europe, with over 4,000 suppliers and meetings and events planners.

The teams from Auckland Convention Bureau, Tourism New Zealand and The New Zealand International Convention Centre (NZICC) will have representatives on hand to talk about Auckland, New Zealand and the NZICC - a new 4,000 pax venue, due to open in 2020.

While at the tradeshow New Zealand aims to make a lasting impression , with visitors invited to experience the unique beauty and cultural storytelling of live tā moko (traditional Māori tattooing).
Respected tā moko artist Arekatera 'Katz' Maihi from the New Zealand Māori Arts and Crafts Institute (NZMACI) will be on the 100% Pure New Zealand stand offering tā moko, traditional Māori tattoo for those visitors keen for a more permanent reminder of New Zealand.
"Tā moko is a tāonga (treasure) to Māori people and culture," says Maihi. "Tā moko has to be about connection, otherwise it's just a drawing. Connections can be between you, your whanau (family), your area, your environment or anything else specific to your life."
In the tā moko process, no design ideas are shown in advance. The artist listens to the recipient's kōrero (narrative) and, using their knowledge of traditional Māori designs, brings to life their individual story. Afterwards, the meaning of the visual representations is explained by the artist.
"Part of tā moko is getting what you're meant to receive," says Maihi. "It can feel like a risk to entrust your story to someone else and then let them have access to your skin. It's a leap of faith on both sides."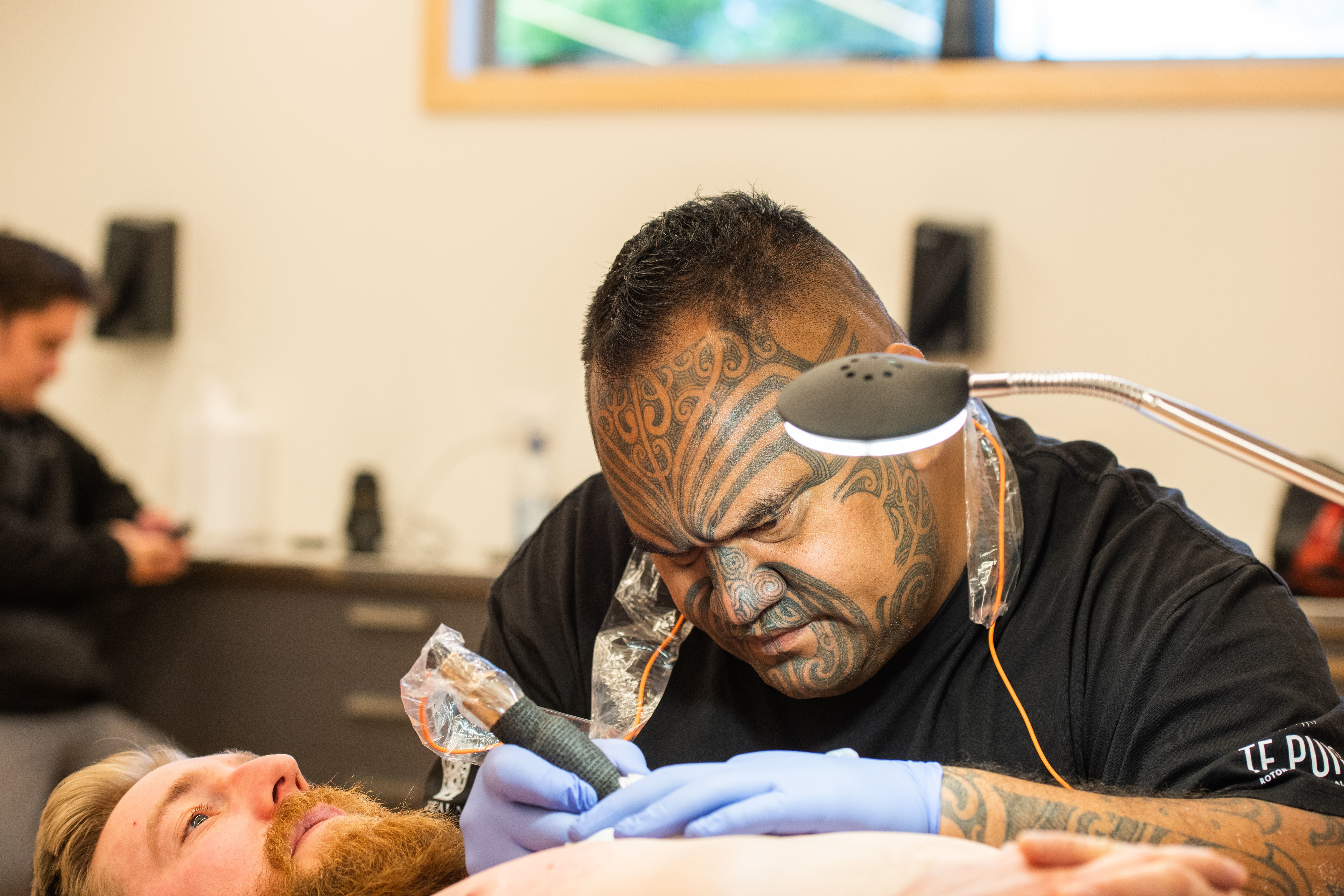 Hosted buyers can find us by our company profile (New Zealand International Convention Centre) and request a time with Prue. If you are intending on registering for IMEX Frankfurt but don't have an appointment stream feel free to email us directly to make a time (see details below) or come and talk to the team in the 100% Pure New Zealand Stand, C300. Join the team at one of three Coffee Times that will be hosted on the stand on May 15, 16 and 17 at 10:00 - 14:00.

If you are in Frankfurt, wider Europe region or London, and aren't attending IMEX Frankfurt but would like more information our team would be delighted to hear from you, and understand your conference needs, and if possible come to see you.

At an impressive 32,500m2, the NZICC will be the largest and most versatile conference, exhibition and entertainment space in New Zealand. The designers of the NZICC have focused on creating a highly accessible, inviting and dynamic building for New Zealand to welcome the world.


Auckland Convention Bureau and Auckland Conventions Venues & Events will also be on the stand: with the city set to host the prestigious America's Cup sailing regatta in 2021, it is welcoming a raft of new luxury accommodation and opportunities for incentives and high-end events.
Representatives from Te Puia in Rotorua, home to the NZMACI and authentic cultural experiences, will also be present, as well as destination management experts ID New Zealand.

Contacts

Our team is available to assist with your inquiries. Attending IMEX Frankfurt will be:
NZICC - New Zealand's meeting place for the world

Our strategic partners Tourism New Zealand, can help your event access the Conference Assistance Programme.
Leonie Ashford - Business Events Manager

Tourism New Zealand
Auckland
Auckland is more accessible than ever and is the best connected city in the county. 30 international airlines fly direct to Auckland from 43 destinations around the world.
Auckland is a place where city style and natural beauty go hand in hand. With a vibrant and diverse range of venues, activities and landscapes on offer, event planners are spoilt for choice when it comes to creating a world class business event.

Auckland already has the infrastructure to cater to the needs of groups, with 7,000 hotel rooms from 2 to 5-stars in the central city alone, with more accommodation in the pipeline and of course the development of the NZICC, putting Auckland at the forefront of business events in New Zealand.

Fresh, diverse, globally-inspired and gourmet are just a few of the words to describe Auckland's exciting dining scene. Being home to a melting pot of cultures, you'll find a huge range of traditional and modern cuisine throughout the many dining precincts across the city. New Zealand's famous geography gives its food scene a distinct advantage. (Bloomburg)

Auckland is a thriving high-tech hub of the Asia-Pacific region, home to more than 20,000 innovation-based companies. There are experts across business, industry, tertiary and research institutions, making the city the perfect choice for international delegates to connect and collaborate.